PRE-CONFERENCE EXPERIENCE
February 22 | 10:00 am – 4:00 pm | $175
Sign up is open to all attendees, exhibitors, sponsors, and speakers.
9:00 – 9:45 am
Badge pick up for attendees participating in Pre-conference Experience
9:45 am
Bus boarding begins
10:00 am
Bus Departs Peppermill Resort
10:15 am-11:30 am
The University of Nevada Reno's Nevada Agricultural Experiment Station.
We'll tour the facilities, stopping along the way to learn about important research on sustainable agriculture being done.  We'll visit two labs, the Santos Lab and the Kosmas Lab, both of which are doing research into biological controls for vegetable crops.
University of Nevada Reno's Agricultural Experiment Station
This stop will include a tour of the facilities that includes demonstrations and presentations from researchers on their current sustainable projects.
The overarching goal of the Santos lab is to provide a comprehensive understanding of fundamental aspects of falcarin function in planta and provide resources improving crop resilience to devastating pathogens.
The Kosma lab focuses on understanding the complex plant lipid polymers cutin and suberin. The team combines biochemistry, analytical techniques, and molecular genetics to comprehend the macromolecular structure and functional significance of these polymers with an emphasis on their
role in plant tolerance to abiotic stress.
Patricia Santos will lead discussions in both labs.
11:30 am-12:15 pm
The group will walk next door to the Desert Farming Initiative hoop houses and meet with Jill Moe, Director of DFI.  Moe will discuss DFI's scope of work focused on Climate Smart Farming and food sovereignty. The group will tour the hoop houses, plant nursery, and likely discuss food safety programs.
12:15 pm-1:30 pm
Group Departs Desert Farming Initiative (DFI) for Frey Ranch Distillery in Fallon.
DFI's mission is to advance climate smart farming and food sovereignty in the region.
Demonstration: demonstrate sustainable vegetable and fruit farming practices, while bolstering the regional food system.
Education: provide practical on-farm learning experiences for UNR students and develop resources for other growers.
Outreach: actively engage with a diverse array of stakeholders to improve food security and prepare for farming in a changing climate.
Research: conduct research in collaboration with academic faculty, other organizations, and industry to improve agricultural practices for desert climates.
In addition to being a demonstration and research resource in Nevada, DFI operates a year-round commercial farm producing a variety of fruits, vegetables and herbs that are sold directly at markets and wholesale.  All crops are certified organic by California Certified Organic Farmers.
1:30 pm
Group arrives at Frey Ranch Distillery.
1:30 pm – 2:45 pm
Visit Frey Ranch and Distillery. The Frey team will provide a tour of the distillery along with a whiskey tasting and farm tour. There will be an opportunity to purchase product.
2:45 pm – 4:00 pm
Return from Frey Ranch Distillery to Peppermill Resort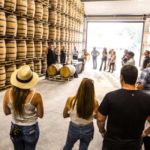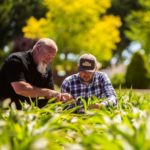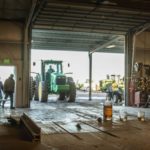 A 30-minute, behind-the-scenes tour of the beautiful distillery and see how this award-winning whiskey is created from grains grown right on Frey Ranch.
NOTE:
A boxed lunch is included in the cost. A note will be sent to participants to confirm their choice of sandwich.